Apple ha annunciato oggi che Pharrell Williams, One Direction, Florence + The Machine and Disclosure saranno fra gli headliner dell'Apple Music Festival 2015 alla Roundhouse di Londra questo settembre.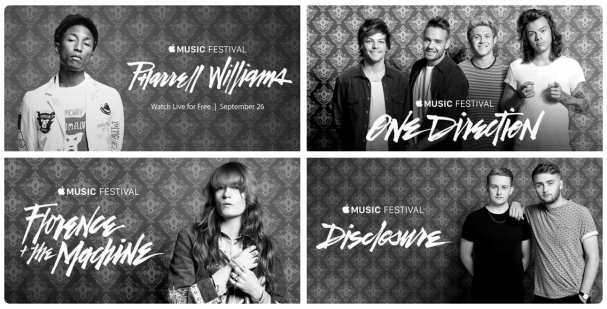 Apple trasmetterà gratuitamente le performance agli appassionati di musica nel mondo, e potranno essere viste live e on-demand su Apple Music. L'Apple Music Festival permette ai fan di avvicinarsi ancora di più ai propri artisti preferiti grazie alla copertura su Beats 1 oltre a news e materiale dal backstage reso disponibile direttamente dagli artisti su Apple Music Connect.
"Volevamo fare qualcosa di veramente speciale per gli appassionati di musica quest'anno," ha affermato Eddy Cue, Senior Vice President Internet Software and Services di Apple. "Apple Music Festival è un set di dieci incredibili notti di grandi successi con alcuni dei migliori interpreti del pianeta che si esibiranno live e interagiranno direttamente con i propri fan su Connect e Beats 1."
Apple Music è una singola app intuitiva che combina i migliori modi di vivere la musica — tutti in un unico luogo. Beats 1 è la prima stazione radio live di Apple interamente dedicata alla musica e alla cultura musicale. Con Apple Music Connect, gli artisti possono condividere testi, foto del backstage, video o persino rilasciare il loro ultimo brano ai fan direttamente dal loro iPhone.
"Wow, sono così grato di esibirmi all'Apple Music Festival. La Roundhouse è talmente un luogo storico…c'è sempre un'energia speciale nella folla. Grazie di ospitarmi!" – Pharrell Williams
"Sarà bellissimo essere nuovamente a Londra e non vediamo l'ora di esibirci per i nostri fan alla Roundhouse e in tutto il mondo su Apple Music! Ci vediamo lì!" – Niall, One Direction
"Siamo entusiasti di suonare all'Apple Music Festival di quest'anno, nella meravigliosa Roundhouse!" – Florence + The Machine
"Siamo super entusiasti di suonare per la prima volta all'Apple Music Festival alla Roundhouse, una delle nostre location preferite a Londra. Sarà anche il giorno in cui esce il nostro album e questo lo rende ancora più speciale!" – Disclosure
L'Apple Music Festival si svolge nell'arco di dieci notti, dal 19 settembre al 28 settembre. I residenti del Regno Unito possono vincere i biglietti su Apple Music e attraverso media partner fra cui il London Evening Standard. Apple ha ospitato l'iTunes Festival a Londra per otto anni, e ora, in onore del lancio di Apple Music, ha rinominato l'evento Apple Music Festival. I clienti possono godersi l'Apple Music Festival attraverso Apple Music o iTunes sui propri iPhone, iPad, iPod touch, Mac, PC o in incredibile HD con Apple TV.
L'iTunes Festival iniziò all'Institute for Contemporary Arts di Londra nel 2007, e ha visto oltre 550 artisti esibirsi davanti ad oltre mezzo milione di fan e decine di milioni in più online e on-demand. Fra gli artisti che si sono esibiti in passato ci sono Adele, Beck, Coldplay, Elton John, Foo Fighters, Justin Timberlake, Kings of Leon, Lady Gaga, Katy Perry, Maroon 5, Muse, Sir Paul McCartney e molti altri.
Per aggiornamenti, biglietti e ulteriori informazioni, visita il sito: www.applemusicfestival.com o unisciti alla conversazione su Apple Music Connect.
Per sapere di più su Apple Music Connect e Beats 1 visita: www.apple.com/it/music/connect e www.apple.com/it/music/radio.
Se vuoi tenerti aggiornato su questo argomento e sul mondo Apple in generale, seguici su Facebook e unisciti al canale Telegram di AmiciApple.it cliccando qui: http://telegram.me/amiciapple dal browser del tuo dispositivo.