Oggi Apple ha lanciato Shop with a Specialist over Video, una nuova esperienza di shopping in diretta su apple.com disponibile negli Stati Uniti che permette a chi desidera acquistare un iPhone di interagire con una persona del team Apple in una video sessione sicura e unidirezionale.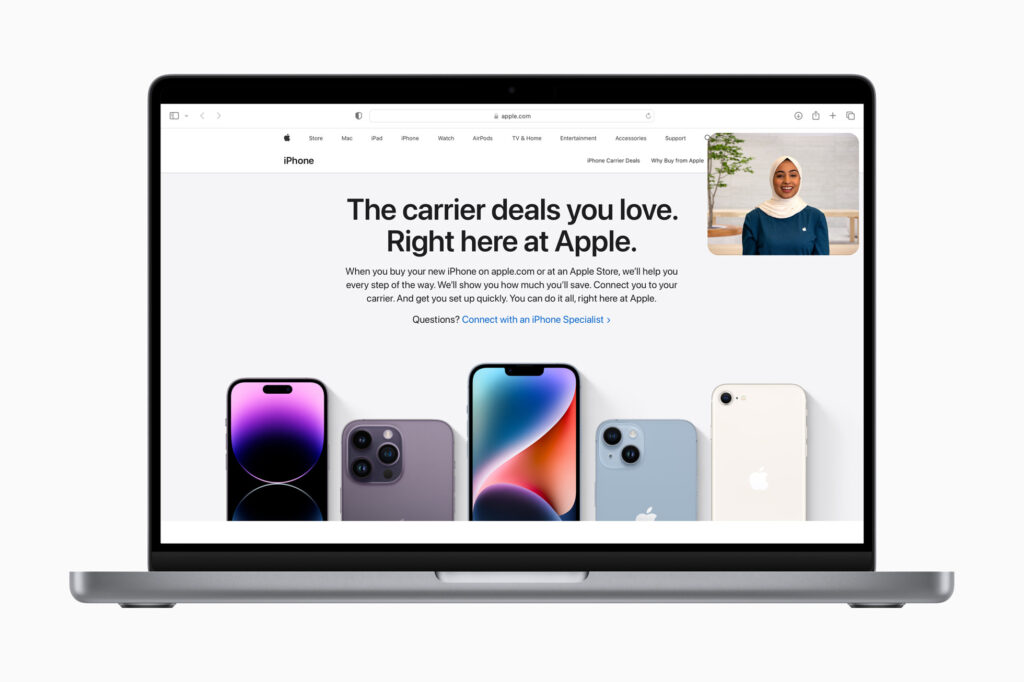 Con questo nuovo servizio, i clienti e le clienti possono esplorare gli ultimi modelli, scoprire le nuove funzioni e saperne di più sulla permuta con Apple Trade In, le offerte degli operatori, il passaggio ad iOS e le varie opzioni di finanziamento."Continuiamo a innovare i nostri servizi per offrire un'esperienza ancora più personalizzata e portare il meglio di Apple a ogni cliente, ovunque si trovi" ha detto Karen Rasmussen, Head of Retail Online di Apple. "Con Shop with a Specialist over Video, i nostri team potranno entrare in contatto con ogni cliente per offrire un'esperienza di eccellenza e aiutarli a scegliere l'iPhone più adatto alle loro esigenze."
Migliorare l'esperienza di acquisto
Andando su apple.com/shop/buy-iphone, con pochi clic si entrerà subito in contatto con una persona del team Apple Specialist, che saprà fornire assistenza di alto livello e suggerimenti per scegliere il modello di iPhone più adatto. Durante la sessione sarà possibile confrontare funzioni, colori e dimensioni dei vari modelli, e trovare l'offerta migliore esplorando il programma di permuta Apple Trade In o le proposte degli operatori.
Acquistare la nuova linea iPhone 14 in una video sessione con una persona del team di Specialist
Belli da vedere e robustissimi, iPhone 14 e iPhone 14 Plus sono ora disponibili anche in giallo e sono dotati di uno spettacolare sistema a doppia fotocamera, del potente chip A15 Bionic e di una batteria che dura tutto il giorno. In particolare, iPhone 14 Plus offre più autonomia di ogni altro iPhone. Entrambi i modelli includono funzioni di sicurezza innovative come Rilevamento incidenti e SOS emergenze via satellite,1 che permette all'utente di contattare i soccorsi anche se non ha accesso a una rete cellulare o Wi-Fi. iPhone 14 e iPhone 14 Plus sono disponibili nei colori mezzanotte, galassia, (PRODUCT)RED, blu, viola e ora anche in giallo, con prezzi a partire da € 1.029 e € 1.179. Negli Stati Uniti è possibile ottenere un credito fino a $ 600 per l'acquisto di un iPhone 14 dando in permuta un iPhone 11 o successivo2 su apple.com/store con il servizio Shop with a Specialist over Video, tramite l'app Apple Store e presso gli Apple Store.
Fonte: Apple
Se vuoi tenerti aggiornato su questo argomento e sul mondo Apple in generale, seguici su Facebook e unisciti al canale Telegram di AmiciApple.it cliccando qui: http://telegram.me/amiciapple dal browser del tuo dispositivo.