Negli ultimi giorni, ci sono stati importanti aggiornamenti rigurdanti il jailbreak per iOS 10.2 che, però, hanno messo da parte quello per iOS 10.1.1 e anche gli utenti di iPhone 7/7 Plus.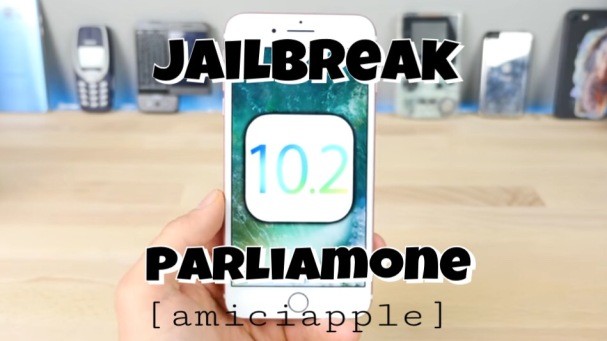 Cos'è il jailbreak?
Il jailbreak è una procedura che ci permette di "sbloccare" il nostro dispositivo iOS installando una applicazione chiamata Cydia che ha, fondamentalmente, la stessa funzione dell'App Store, permettendoci di installare tweak e temi che favoriscono la personalizzazione del nostro iPhone che come sappiamo non è possibile senza jailbreak.
Veniamo ora al cuore dell'articolo dove parliamo del vero e proprio jailbreak di iOS 10.2.
Questo kit di sblocco è stato creato da due hacker italiani: Luca Todesco e Marco Grassi che dopo il duro lavoro causato dalla pressione della comunità "jailbreak" l'hanno pubblicato con una settimana di ritardo dalle aspettative. Nonostante questi due ragazzi abbiano lavorato incessantemente per soddisfare i desideri degli smanettoni, loro non sono ancora contenti, dato che attendono il rilascio di una versione definitiva del jailbreak di iOS 10.2; quindi i dati che ci giungono aggiornati dichiarano che siamo arrivati alla beta 7 del jailbreak che seppur molto stabile e compatibile con tutti i dispositivi a 64bit tranne l'iPhone 7/7 Plus ha ancora dei piccoli problemi di compatibilità dei tweak che potrebbero essere risolti in una versione definitiva.
Di seguito la lista di tutti i tweak compatibili con il jailbreak di iOS 10.2 e testati dallo staff di AmiciApple:
PreferenceLoader
OpenSSH
3D Switcher
3D Touch to Clear Notifications
Action Menu
Activator
AdvancedSettings8
Alkaline
AlwaysFirstSwipe
Anchor
Anemone
App Admin
AppInfo
AquaBoard
AutoBrightness
Barrel
Bars
BatteryLife
Bloard
BlurryBadges
BlurryLaunch
betterFiveColumnHomescreen
betterFiveIconDock
CacheClearer
Cask
CCLowPower
CellularUsageOrder
Circa
CircleIcons
ClassicDock
ColorBadges
CrashReporter
Cream 2
Creamless
Cuttlefish
Cydia Installer
Cydia Substrate
CyDelete8
Cylinder
Date in Statusbar
DeleteForever
DetailedBatteryUsage
DisableVoiceControl 8
Disclose
Disk Pie
DismissProgress
Docker
DockShift
DoubleCut
DylibSearch
Eclipse 4
Edge
Emoji10
EmojiAttributes
exKey
Filza File Manager
f.lux
FlipControlCenter
ForceInPicture
FrontCamUnMirror
Ghosty
GIFViewer
GlowDock
HapticFeedBack
HideSettingsSearch
HideLabels10
iCleaner Pro
Icon Renamer
IconSupport
iFile
ImageBoard
iOS Terminal
iTransmission 4
iWidgets
libcolorpicker
libstatusbar
Lithium Ion
LocationFaker9
LockHTML4
Mikoto
Minimal Hosts Blocker
MinimalisticUI
Moveable9
MTerminal
NetworkList
NoBlur
NoCarrier
NoLiveClock
NoKeyPop
Notate
NoTodayView
NoMotion
NoPageDots7
NoSlowAnimations
NoTrackpadDelay
NoVoiceMail
NtSpeed
NudeKeys
PhotoSize
PM, really?
QuickShuffleRepeat
RocketBootstrap
RoundDock
RoundScreenCorners
Safari Full URL
SameStatus
Sentinel
Shy Page Dots
Skrollerz
SmoothCursor
SmoothPop
Snoverlay
SpeedyHomey
Splitify
Springy
Substrate Fix
SwipeExpander
SwipeForMore
SwipeSelection
SwipeSelection Pro
SwitcherTweak Pro
Tactful
TetherMe for iOS 9 & 8
Touchr
TransparentDock
tsProtector
Tweak Count 2
UnBold
Unicode Faces
Upscale
wGet
WGradRemover
WhiteTerminal
Whoozit
Whoozit Pro
WiCarrier
WiFi Booster
WiJoin
WinterBoard
xCon
XPasscode
ZW1T
WiFi – The Strongest Link
Edit Alarms
StatusModifier
MultiAction
AlertClose
Memento
StatusvolX
PalBreak
CleanSheets2
Dim
KuaiDial
In definitiva possiamo dire che per gli utenti di iPhone 7 Plus non ci sono speranze (fino ad ora) che esca un jailbreak compatibile con ios 10.2, ma, se non avete aggiornato potete effettuarlo su ios 10.1.1 dato che, come dichiarato da Luca è imminente la pubblicazione di una nuova versione definitiva che sistemerà tutti i problemi che c'erano nelle beta precedenti. Quindi possiamo essere soddisfatti del lavoro fatto da questi due ragazzi che hanno passato le notti in bianco per soddisfare i nostri bisogni, tuttavia, possiamo dire addio a Luca Todesco dalla comunità del jailbreak dato che ha espressamente dichiarato in un suo post questo sarà il suo ultimo jailbreak pubblico. Spero che questo articolo possa aver chiarito tutti i vostri dubbi, per eventuali problemi o chiarimenti potete contattarmi sul gruppo telegram del sito.
Se vuoi tenerti aggiornato su questo argomento e sul mondo Apple in generale, seguici su Facebook e unisciti al canale Telegram di AmiciApple.it cliccando qui: http://telegram.me/amiciapple dal browser del tuo dispositivo.