Apple ha annunciato il nuovo iPhone SE, un nuovo e potente iPhone dal design iconico, con capacità e prestazioni eccezionali ad un prezzo davvero conveniente.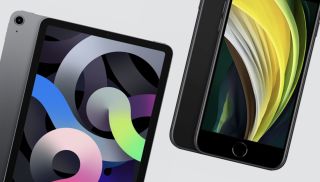 Il design compatto e robusto di iPhone SE, insieme a iOS 15, permettono un'esperienza d'uso fluida. Il nuovo iPhone SE arriva con grandi miglioramenti, incluse le prestazioni del chip A15 Bionic, che rende possibili funzioni evolute per il sistema di fotocamere e migliora praticamente qualsiasi esperienza, dall'editing di foto agli utilizzi più impegnativi come i videogiochi o la realtà aumentata. iPhone SE è ancora più robusto, ha connettività 5G e una maggiore autonomia, ed è disponibile in tre splendidi colori: mezzanotte, galassia e (PRODUCT)RED.1 iPhone SE potrà essere pre-ordinato a partire da venerdì 11 marzo e sarà disponibile a partire da venerdì 18 marzo."Grazie al suo design iconico, alle prestazioni eccezionali e al prezzo conveniente, iPhone SE è diventato un modello molto popolare sia tra chi è già utente Apple, sia tra i nuovi clienti. Quest'anno abbiamo realizzato l'iPhone SE più potente e resistente di sempre, con una migliore autonomia grazie al chip A15 Bionic, lo stesso usato sulla gamma di iPhone 13, che permette funzioni evolute della fotocamera come Smart HDR 4, Stili fotografici e Deep Fusion" ha dichiarato Kaiann Drance, Vice President of Worldwide Product Marketing di Apple. "Grazie al 5G, iPhone SE consente download e upload più veloci, uno streaming video di qualità superiore, interattività in tempo reale nelle app e molto altro ancora. Solo Apple è in grado di offrire tecnologie e prestazioni di ultima generazione a questo prezzo."
Prezzi e disponibilità
iPhone SE sarà disponibile nei modelli da 64GB, 128GB e 256GB, nei colori mezzanotte, galassia e (PRODUCT)RED, a partire da €529.
In Australia, Canada, Cina, Francia, Germania, India, Italia, Giappone, Regno Unito, negli Stati Uniti e in più di altri 30 Paesi e territori sarà possibile preordinare iPhone SE a partire dalle 05:00 (PDT) di venerdì 11 marzo, con disponibilità a partire da venerdì 18 marzo.
Ma le novità non sono finite qui. Infatti durante lo stesso evento Apple ha presentato anche il nuovo iPad Air con il chip Apple M1 progettato da Apple, che permette un incredibile salto prestazionale. Disponibile in una nuova gamma di colori,iPad Air è dotato anche della nuova fotocamera frontale con ultra-grandangolo con Inquadratura automatica per un'esperienza di videoconferenza più naturale, una porta USB-C con velocità di trasferimento fino a 2 volte più veloce e 5G ultraveloce sui modelli Cellular – a partire da un prezzo accessibile. Grazie alle fotocamere avanzate e alla compatibilità con gli accessori più recenti, chi crea contenuti, gioca ai videogame o studia sarà in grado di ridefinire i confini di ciò che è possibile fare in termini di creatività, produttività ed espressione. Il nuovo iPad Air potrà essere ordinato da venerdì 11 marzo e sarà disponibile negli store a partire da venerdì 18 marzo."Che si tratti di uno studente universitario che prende appunti, di un content creator che lavora al suo ultimo progetto o di un gamer che gioca a videogiochi impegnativi, chi usa iPad Air lo adora per le prestazioni e la versatilità che offre in un design incredibilmente compatto" ha dichiarato Greg Joswiak, Senior Vice President of Worldwide Marketing di Apple. "Con il rivoluzionario chip M1, la fotocamera frontale con ultra-grandangolo e Inquadratura automatica e 5G ultraveloce, iPad Air è ora più che mai potente, capace e divertente."

Prezzi e disponibilità
Il nuovo iPad Air sarà ordinabile a partire da venerdì 11 marzo su apple.com/it/store e sull'app Apple Store in 29 nazioni e Paesi, fra cui Italia, e sarà disponibile a partire da venerdì 18 marzo.
I modelli Wi-Fi di iPad Air hanno un prezzo a partire da €699 (Iva incl.), mentre quelli Wi-Fi + Cellular partono da €869 (Iva incl.). Il nuovo iPad Air, con capacità di 64GB e 256GB, è disponibile in grigio siderale, galassia, rosa, viola e blu.
Se vuoi tenerti aggiornato su questo argomento e sul mondo Apple in generale, seguici su Facebook e unisciti al canale Telegram di AmiciApple.it cliccando qui: http://telegram.me/amiciapple dal browser del tuo dispositivo.